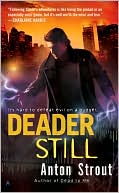 Deader Still
[
Amazon
|
Mysterious Galaxy
], by Anton Strout (
antonstrout
) comes out on Tuesday the 24th, but should already be showing up in bookstores. I was fortunate enough to get an early copy, because apparently someone at Penguin likes me.
Note: Anton works at Penguin. I think this is coincidence. Anton doesn't like anyone. Except maybe Amber Benson,
who also said nice things about Deader Still
. Gr ... Anton has Amber Benson,
Pat Rothfuss has Felicia Day
... when do I get a famous Hollywood actress saying nice things about
my
book?
Ahem. Anyway, where was I? Oh, right, Deader Still. Fun, but comes up lacking in the werejaguar department. Deader Still is the sequel to
Dead to Me
[
Amazon
|
Mysterious Galaxy
], which I
reviewed back in August
. This time, Simon Canderous of New York's Dept. of Extraordinary Affairs is up against another batch of supernatural baddies, including a possible vampire invasion. Of course, the DEA is a government agency, so he also gets to fight red tape and budget troubles. And then there's tension with his girlfriend, ex-cultist Jane, not to mention some leadership troubles with his partner Conner...
Simon's a fun character. His psychometry gives him the ability to see an object's history by touching it, and his retractable bat gives him the ability to see a zombie's insides by whacking it. These two tools, along with a steady barrage of pop culture references, are pretty much what see him through the story.
This is a fun read that doesn't take itself too seriously, and never pretends to be anything but what it is. The pace moves right along, running poor Simon a little ragged in the process, but providing plenty of action. If you liked Dead to Me, it's a safe bet you'll like this one even more. We pick up some threads from the first book, and we also see Simon growing a bit. He knows how to control his powers better now -- well enough to maintain an actual relationship for the first time in his life. (Hard to keep a relationship going when you're accidentally reading your lover's secrets from everything you touch.) Of course, since this is Simon's first relationship, he gets to make all the fumbling mistakes most of us made as teenagers, which is a little painful at times, but understandable.
No book is perfect. Like I said before, this one has a deplorable lack of werejaguars (inside joke*). If you want deep, serious, intense urban fantasy, this might not be the book for you. But the only real complaint I had was a minor quibble, that the Buffy jokes started to get repetitive. Hopefully Simon can expand his pop culture references a little more for book three.
The last page gives us the hook for the next book, but since the major conflicts of
this
book are all resolved, I won't complain too much about being left hanging on this new crisis ... assuming Anton hurries up and gets the next book out soon.
-----
*Disclosure: I know Anton. We've hung out, and I consider him one of my writer buds. That said, if his book sucked, I'd either tell you so or (more likely) I just wouldn't review it.